Beyond Boundaries: Advancing Student Attainment
DSB Symposium 2023
A Global Symposium to Transform Education
Special Announcement: DSB is proud to be a part of the esteemed **TedX brand**. Experience insights from world-renowned thinkers and innovators!
The DSB Symposium is dedicated to reshaping the educational landscape by spotlighting innovative teaching methods, enhancing student profiles, and positioning DSB as a pioneer in education in Mumbai. Through this event, we aim to create impactful content for DSB International, provide unique networking opportunities, and elevate teaching standards globally.
Book Your Attendance Now! : REGISTRATION OPENS SOON.
Dates & Schedule:
Friday, Oct 20th: 3 - 7pm + Networking Opportunities
Saturday, Oct 21st: 10am - 4pm
Sunday, Oct 22nd: 10am - 1pm
Venues:
DSB Euro Campus GF
DSB Garden Campus
Transportation will be provided between venues.
Be Part of a Global Movement:
Join this immersive symposium dedicated to advancing student attainment. Together, we'll revolutionise education, ignite inspiration, and empower students to new heights.
Beyond Boundaries: Advancing Student Attainment
We invite you to join us in Mumbai for an extraordinary inter-school symposium that will revolutionise the way we shape the future of our students. This exceptional gathering promises to be a catalyst for growth, innovation, and collaboration, bringing together esteemed educational institutions from around the world.
Beyond Boundaries: Advancing Student Attainment is a unique platform designed to empower educators and schools with the tools, knowledge, and strategies to push the boundaries of student achievement. Teachers, students and school leaders share invaluable insights on improving student outcomes, while renowned experts engage in thought-provoking discussions, and share groundbreaking methodologies that will revolutionise the learning experience within your institution. Join forces with fellow educational leaders and unlock a world of limitless possibilities for your students.
At DSB International, we believe in pushing boundaries and embracing innovation in order to nurture the brightest minds of tomorrow. In collaboration with leading educational experts and esteemed institutions, we have curated an immersive symposium that offers a transformative experience for educators seeking to redefine student success.
This symposium will serve as a collaborative platform for schools across Mumbai and beyond to share their experiences, learn from one another, and collectively shape the future of education. By attending, you will be part of an engaging community committed to advancing student attainment and equip students with the skills and knowledge needed to thrive in the dynamic world of tomorrow.
Delve into:
1. Innovative Teaching Approaches: Discover groundbreaking teaching methods that transcend conventional boundaries, fostering a dynamic and engaging learning environment for students.
2. Technology Integration: Learn how to effectively harness the power of technology to enhance student attainment, promote critical thinking, and bridge the gap between traditional and digital learning.
3. Innovative Student Assessment Strategies: Dive into the latest assessment techniques that go beyond traditional exams and focus on measuring overall student attainment and progress.
4. Adaptive Education: Gain insights into creating an inclusive classroom environment, ensuring every student has equal opportunities to excel, irrespective of their background or abilities.
5. Personalised Learning: Uncover the transformative potential of personalised learning, tailoring educational experiences to meet the unique needs and aspirations of each student.
6. Career Integration & Future Skills Development: Explore strategies to equip students with the essential skills and competencies needed to thrive in an ever-evolving world.
7. Parent and Community Engagement: Uncover innovative ways to involve parents and the local community in the educational journey, fostering a supportive and collaborative environment for student success.
Four Symposiums in One:
Keynote speakers & Panel Discussions : As part of the TEDX brand, Industry leaders from India and beyond address the importance of attainment in an ever changing world, engaging in panel discussions with real world outcomes that will shape tomorrow's educational landscape.
Student's Symposium : Student driven dialogues bring learning to the forefront. The next generation of global educators discuss the paradigm of old and new educational models and question deliverables.
Teachers of Tomorrow : Addressing real world case-studies, teaching practitioners, examiners and innovators look at the changing shape of the classroom and what it means for teacher toolkits the world over.
Leaders as Learners : As the education landscape changes, so Leadership changes with it. How equipped are the current school boards and leadership teams for the coming revolution in teaching and learning?
Parents as Partners : How can you tell if your child is thriving in the right school? Engage with leading experts who will share invaluable tips and strategies. Learn to identify the signs of a perfect educational fit and unlock the potential for your child's success.
Why Participate:
Networking Opportunities: Connect with educators, administrators, and industry experts from renowned schools across Mumbai and beyond. Build valuable relationships and collaborate on future projects.
Inspiring Keynote Speakers: Immerse yourself in the wisdom of influential thought leaders who will share their expertise, inspiring you to push the boundaries of educational excellence.
Interactive Workshops: Engage in hands-on workshops where you can actively learn and apply groundbreaking strategies and techniques in a supportive environment.
Best Practice Sharing: Participate in panel discussions and roundtable sessions where successful school leaders will share their experiences and insights, giving you actionable takeaways to implement in your own institution.
Cutting-Edge Exhibitions: Explore an exhibition showcasing the latest educational technologies, resources, and innovative products designed to enhance student attainment.
➤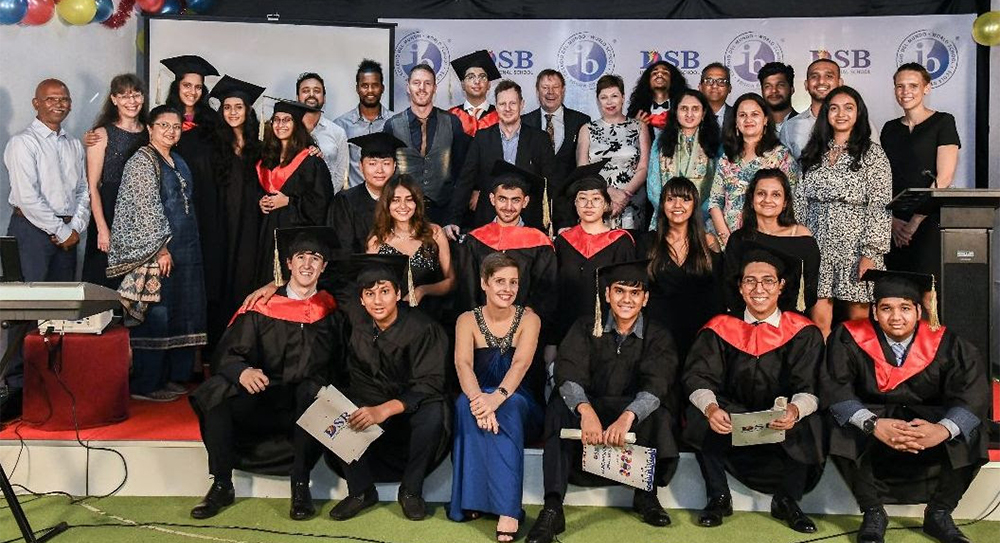 Introducing DSB Academic Scholarship Programme
Applications open for IGCSE and IB Scholarships 2023-24